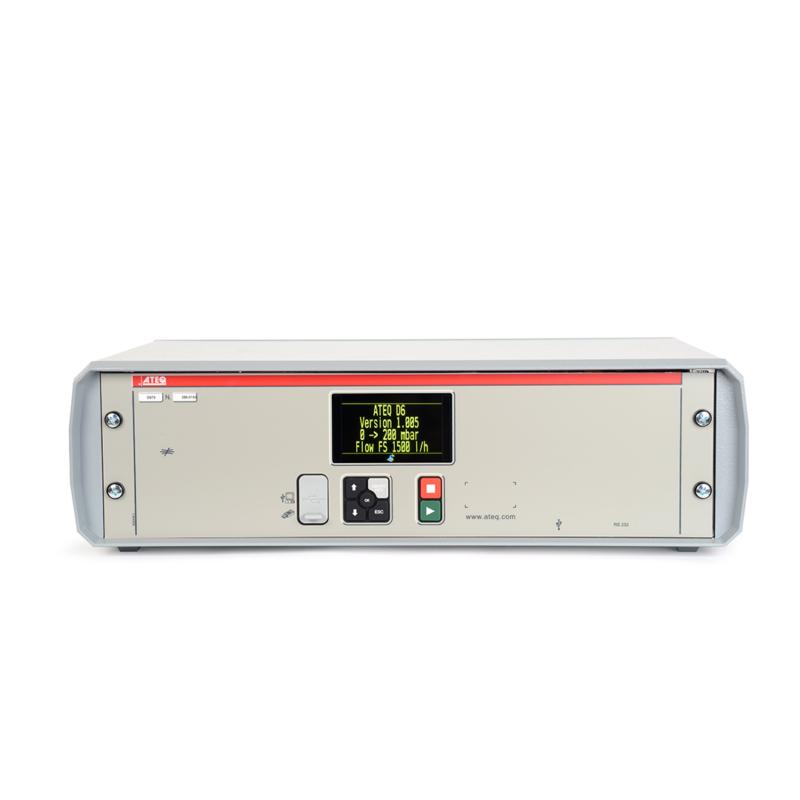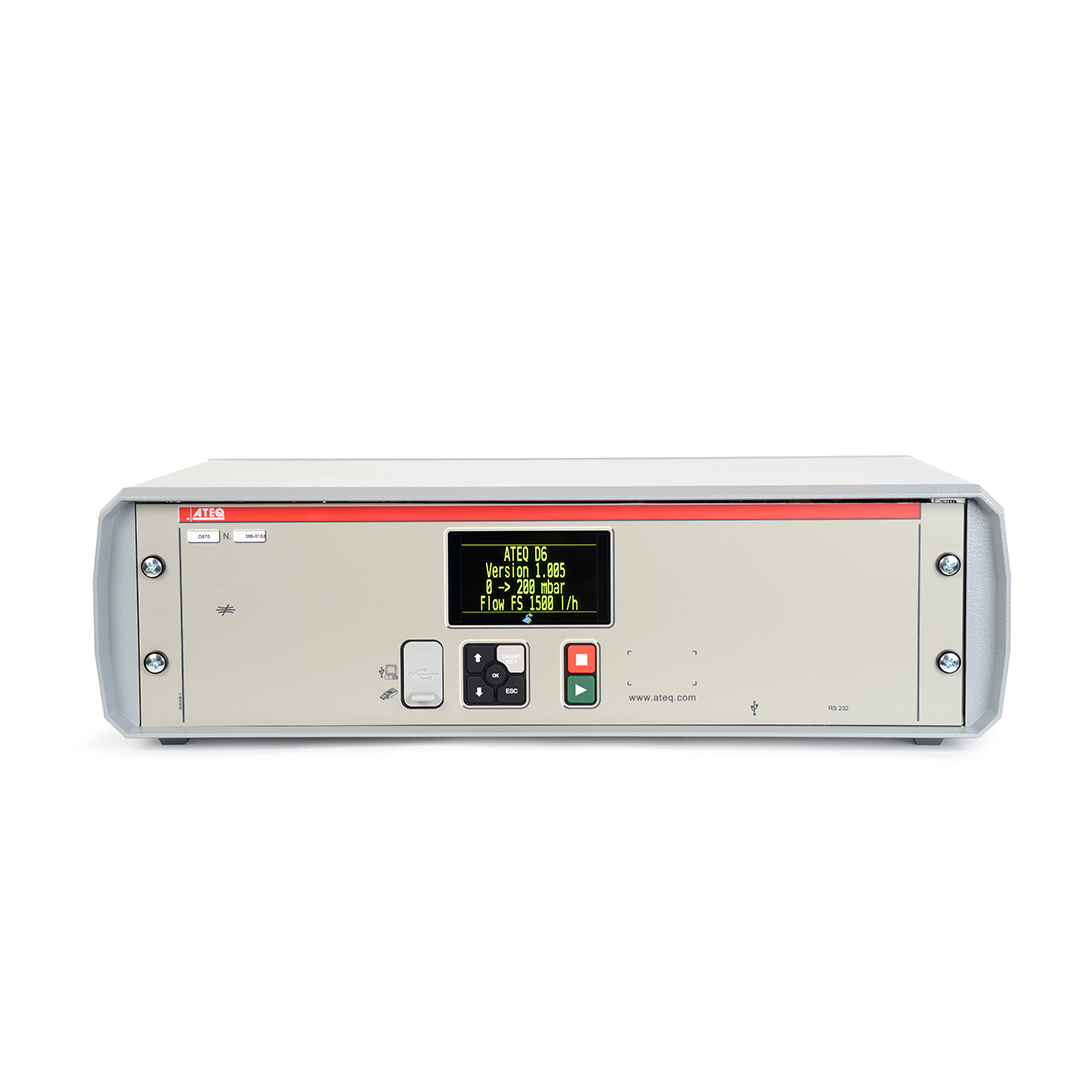 F670 PROBADORA DE PUGAS CON FORMATO INDUTRIAL ESTANDAR
Después de 47 años, y 250 000 probadores instalados a más de 5000 clientes en todo el mundo, ATEQ presenta su revolucionario probador de fugas: F670.
Nuevo módulo electrónico, nuevo módulo de medición, nueva interfaz, nuevos accesorios… Todo realizado para mejorar su control de la calidad. Incluye en su interior la última tecnología de detección de fugas que le garantizarán el ciclo de detección de fugas más rápido y preciso del mercado
Automotive, domestic appliances, medical, aeronautic, defense, fluid and electrical components, food and cosmetic packaging…


•Differential pressure decay leak measurement
• Large range of leak measurement (∆P) F.S.: 50 Pa, 500 Pa or 5000 Pa
• Mechanical or electronic regulator from vacuum to 20 bar
• 128 programs
• Setting on line (via USB)
• 2 languages (English + other one)
• Manual calibration on front panel with calibrated leak
• Data storage on internal memory or USB key
• ΔP (Pa, 1/10 Pa)
• ΔP / t (Pa/s, 1/10 Pa/s)
• Flow units (mm3/s, cm3/s, cm3/min, cm3/h…)
• Blockage test
• and others, depending on your applications
ENVIRONMENT :
ROHS standard
FLEXIBLE COMMUNICATION FORMAT :
• RS232: printer
• Slave USB: supervision
• Master USB: USB key to transfert (parameters, results, statistics…)
• Option Fieldbus: profibus, devicenet, profinet, Ethernet/IP
• Additional Master USB (option) on back panel
(Bar code reader – remote control)
• Memory card for archiving results (1Millions)
MEASUREMENT CHARACTERISTICS :


PHYSICAL

Weight : 15 Kg
Dimensions : (WxHxD) 537 x 157 x 381 mm


ELECTRICAL SUPPLY

24 VDC or 90 – 260 V AC / 1.6 A (option)

TEMPERATURE

Operating : + 5°C at + 45°C
Storage : 0°C at + 60°C
INTERFACE


Graphic color screen with simple and intuitive menu-driven operator controls

SMART KEY : programmable key with user's functions

AIR SUPPLY

Command 4/6 bar

Pressure 1 or 2 bar > test pressure

Clean and dry air


Air quality standard to be applied (ISO 8573-1)
• 9 inputs / 7 local outputs
• Electronic regulator
• Dual pressure
• Automatic calibration check
• 2 pneumatic outputs for control of
• Sealing connectors
• 6 x 24 V programmable outputs for
• External automation…
Detailed information about the F670 leak test instrument including features, specifications, etc.
By far the most popular technology, differential pressure decay uses a reference volume to test your part. This helps compensate for any ambient pressure or temperature variations as they occur on both parts simultaneously.
Only a leak on the test part will result in a movement of our transducer's membrane.
The second advantage of this method is that the accuracy does not drop with the test pressure as the transducer is measuring pressure differences between the two circuits, as opposed to the traditional pressure decay technology that measures pressure drops against the atmosphere.
Direct measurement principle
The part under test 3 and the reference part 5 are filled to an identical pressure. A differential sensor 4 measures the pressure variation between the part under test  3 and the reference part 5. In some applications, the reference part can be replaced by a cap.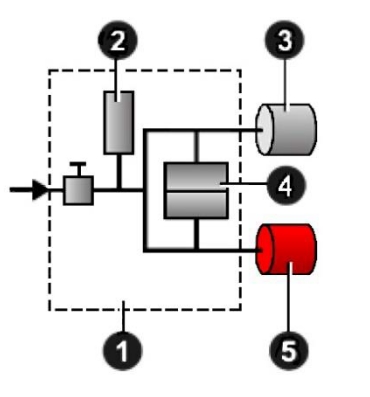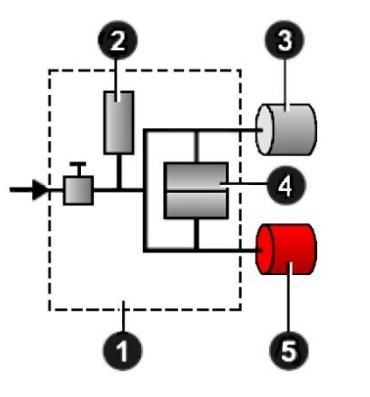 Desensitized test
This  mode  is  used  for  the  measurement  of  large  leaks,  when  the  reject  level  required  is above the full scale of the differential sensor.
The  test  pressure  is  applied  to  the  input  of  the  part  under  test  3.  The  measurement  is performed by the pressure sensor 2.
Other type of tests are available in option